Kicking off 2013
(5-5-13)
The 2013 race season is finally under way! We will be following the SLMR series this season full time and hitting as many other area races as possible with our SLMR motor and Crate motor. After several weather related race cancellations we finally kicked off our season this past weekend. Saturday we headed Junction Motor Speedway for a Nascar Weekly Series race, Billy took 3rd in the heat race and 3rd in the A feature. On Sunday we travelled to Butler County Speedway for the first SLMR series race of the season. Billy started his heat race on the pole and held on for 2nd which got him into the re-draw for the A-Main. Luck was on his side and he drew #3 giving him the 3rd starting spot in the A-Main. We felt we needed whatever luck we could get as we were competing with our crate engine. Billy raced around the top 5 most of the A-main and came home in 7th place. All in all a solid start to the season! We will be racing at Junction Motor Speedway weekly for most of May and on Memorial Weekend we will bring out our new engine for the NCRA race at JMS and the SLMR race at I-80 Speedway. If you come out to see us be sure to stop by our trailer after the races! We have koozies, magnetic koozies, and a limited amount of "Team" tee shirts, we will have our car shirts soon! As always we want to thank our sponsors for supporting us; Kerry Chiropractic, Al Humphrey Motorsports, Miss Nancy's School of Rock, MSM Graphics, Lazer Chassis, and Hoosier by Smith Machine.
-Murphy Racing
<---------------------------------------------->

Coming to a Close
(9-22-12)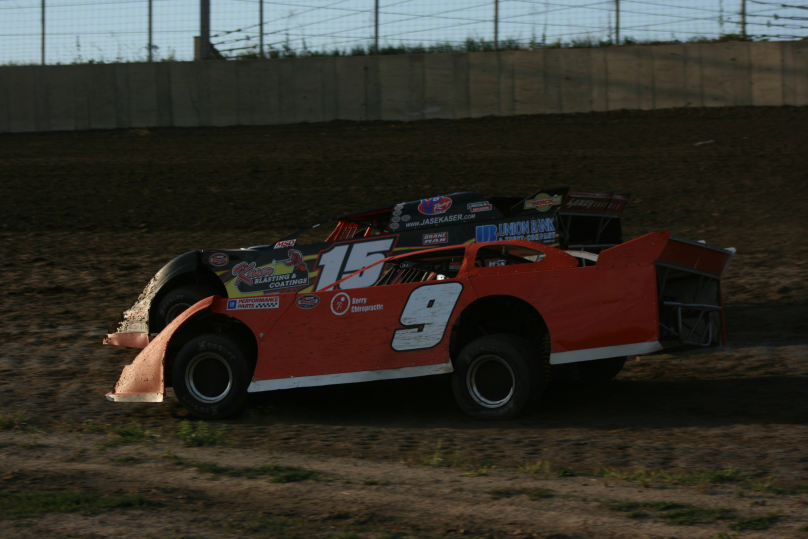 Our race season is almost over, already! We hate to see it come to an end as we have been running strong since mid season. In the last eight races we have scored a win, seven top 5's and eight top 10's. We ended up just 4 points shy of finishing 2nd in the final point standings at Junction Motor Speedway. We are very happy with our results this season after being away from the sport for the last five or six years. We can't thank Al and Lori Humphrey enough for their help and support, without them we could not have accomplished any of this. We also would like to thank our sponsors Kerry Chiropractic of Grand Island and Dairy Queen of Grand Island.
Although football is here and the weather is cooling down we aren't done for the year yet. We will finish up our season at Junction Motor Speedway with the annual Barb Nunnenkamp Memorial on the weekend of October 20-21. Races start at 2 pm both days so come out and enjoy some late season racing with us.
We are already preparring for 2013 which includes looking for more sponsorship, please contact Billy with any interest you may have! We will announce soon our plans for 2013 also, look for us to visit a few more tracks around the area... Also look for a new look in 2013, something with the old Murphy Racing blue...
-Murphy Racing
<---------------------------------------------->

Busy... Busy... Busy...
(6-3-12)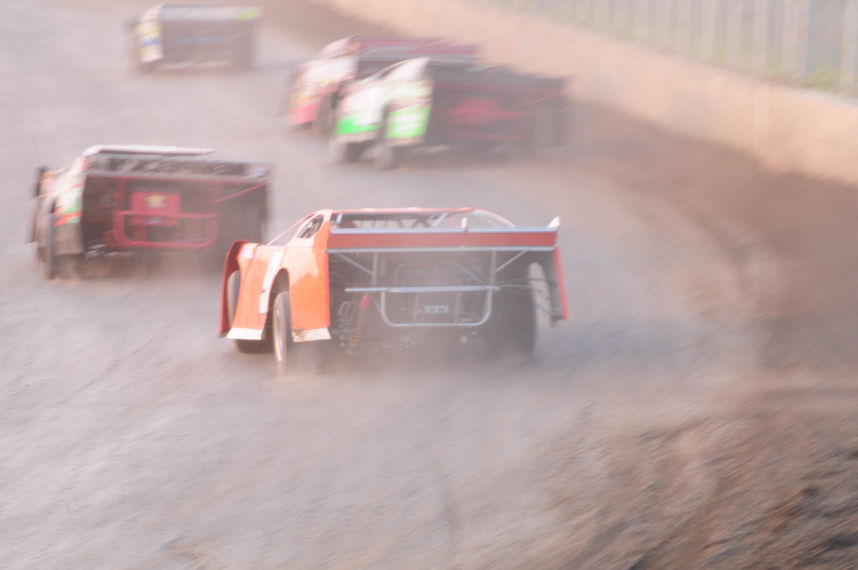 Sorry for the lack of updates here on the main page, we have been very busy. Saturday June 2nd was our 8th race of the season, and so far we are off to a good start. Going into Saturdays race we were 4th in points at Junction Motor Speedway. In those 8 races we have 4 top 5 finishes and 7 top 10 finishes.
While the main page here may not get updated every week, we will continue to post weekly results, videos and photos. If you have any questions or comments please feel free to e-mail us, and if you are at the track stop by and say hi. You can also follow us for live from the track updates on our Twitter and Facebook pages. Junction Motor Speedway also streams the races live every week, go to
www.junctionmotorspeedway.com
and look for the "Striv" link.
-Murphy Racing
<---------------------------------------------->

A Success
(4-2-12)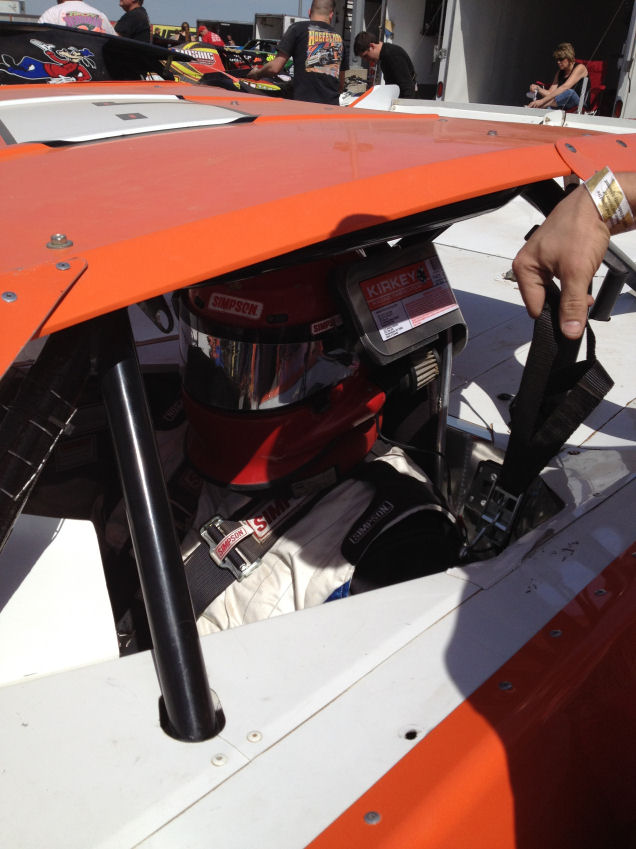 After a 6 year absence from driving Billy finally made a return to the track this past weekend. We went into the weekend unsure of how things would go, but confident in the equipment. Billy had to knock some rust of Saturday and used the heat race and early part of the feature to get to where it felt natural again. We were able to advance from a 15th starting spot in Saturday's A-Feature up to 7th. Billy was very happy with the car and confident we could do better.
Sunday we unloaded ready to show that we could run up front and Billy set the goal of a top 5 for the days A-feature. After making the redraw by finishing 4th in his heat we started 8th in the feature. Billy quickly advanced to 4th position on the track in the first few laps. Unfortunately he lost power steering on lap 2 which was the start of more craziness. During a caution on lap 6 the right side header came off of the car, however it didn't seem to cause any power loss. Billy held on in 4th wanting to get up and race with the 2nd and 3rd place cars but just could not do it with the lack of powere steering. With 5 laps to go the car in front kicked up a 25# bar of lead which hit the wind screen of the car and came into the cockpit hitting Billy in the helmet and then the arm, fortunately it wasn't broken. We were able to hang on for a 4th place finish.
We were very happy with the results of the weekend and really look forward to the rest of the season. Special thanks to the entire crew Lauren, Jason, Brock, Sami, Brandi and Anna for all their help and hard work. Thank you to the JMS staff for a great weekend of racing. And an even greater thanks to Al Humphrey Racing!
We are now off until April 21st when we return to Junction Motor Speedway for the first points race of the season! We hope to see you at the track, and for those that asked we hope to have autograph cards soon, and will get t-shirts available asap as well.
-Murphy Racing
<---------------------------------------------->

Fast Approaching...
(3-22-12)
Our race season will kick off in little more than a week from now. We are busy in the shop putting the finishing touches on the car. I will post a photo of the car before we hit the track next week. We will be at Junction Motor Speedway March 31st and April 1st for the Spring Thaw. Gates open at 10:00 A.M. both days with races starting at 2:00 P.M. If you make it out to the track please stop by the pits afterwards and say hi. If you can't make it to the track but want to follow the races, there will be a live stream all season long at the following link:
JMS Live Stream
I would like to thank everyone for their support, I am looking forward to my return to the track. A special thanks to those behind the scenes that have helped put this deal together to get me back in a car.
-Billy Murphy
<---------------------------------------------->
Welcome to Murphy Racing!
(2-27-12)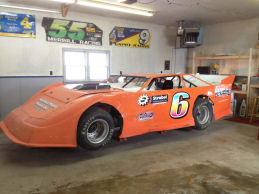 We are excited to announce that Billy will be making his return to dirt late model racing in 2012! The team is busy preparring the car to run weekly at Junction Motor Speedway in McCool Junction, NE. When time permits they will also be racing at some of the other area tracks with the SLMR series. After a 6 years absence from the seat of a race car Billy is looking forward to getting back at it. As of now the plan for the team is to race the Spring Thaw at JMS on March 31st & April 1st, however this is tentative on our schedule and we will make an official decision as that date nears. We are also working on putting our Marketing Partners together for the 2012 season and beyond. If you or your business would be interested in advertising with us or would just like to help support our racing please contact us at
Billy@Murphy-Racing.com
Thanks for visiting www.Murphy-Racing.com and we hope to see you at the track! For more updates and live results from the track please join us on
Facebook
&
Twitter
.